(Kvareli)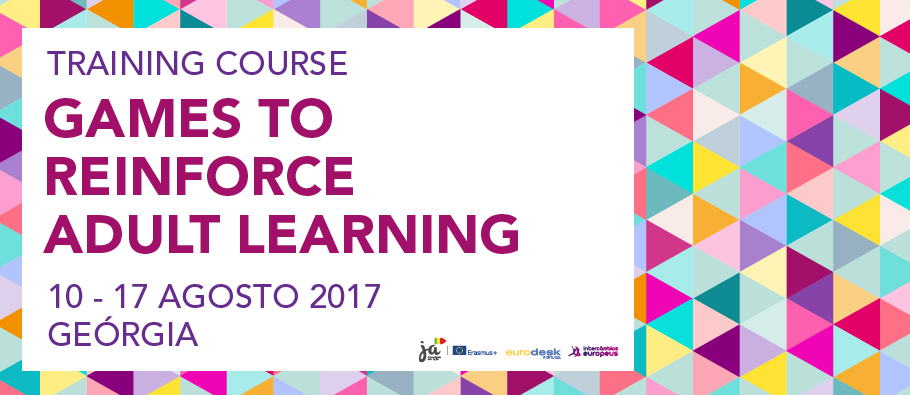 326
Título: TC: Games to Reinforce adult Learning
Duração: 8 dias de 10-08-2017 a 17-08-2017
Idades dos participantes: Dos 19 aos 30 anos
Jovens portugueses: 3
Líderes portugueses: 0
Número total de participantes: 24
Idioma: Inglês
Países participantes: Portugal, Espanha, Alemanha, Itália, Albânia, Estónia, Arménia, Ucrânia
Candidatura: Para te poderes candidatar tens de fazer o teu login. Se ainda não estás registado faz o teu registoprimeiro.
---
Resumo: The TC 'Games to reinforce adult learning' is for inexperienced youth workers and leaders, One of the core values of this project is promoting the learning young people gain through their involvement in open youth work activities. Youth work plays a vital role in encouraging and supporting young people to become active citizens who contribute positively to their society. We believe that there is great value in sharing experiences of young people and youth workers across Europe, and in fact this was one of the founding aims of project.
Objectivos: • To explore the theme of games in youth work practice;
• to advocate for the techniques of non-formal learning;
• To explore the opportunities of the Erasmus + Program, and to place it in the context of
youth work;
• To develop cooperation across Europe and enhance European networking.

With this training we want the project and participants to reach following objectives:
- To learn about youth work practice across Europe;
- To understand the theory and practice of game playing;
- To explore the techniques of successful workshop planning;
- To develop practical skills in leading games with young people;
- To be able to use techniques of non-formal learning with young volunteers withintheir own organizations;
- To have a good working knowledge of the Erasmus + Programme;
- To develop new projects together.
Perfil: - Representatives of organizations that has activities in youth learning
- Person, active in the youth field
- Inexperienced youth workers/leaders
- Possibility to attend entire project from the begging to the end
- Interested in setting further co-operation with similar organizations from other European countries
- Participants are expected to be advanced in English as the main working language will be English

Successful applicants will receive confirmation of their participation, followed by moredetailed information
*Please note: Host organization preserve the right to reject the selected participants by
sending organization in case they see the profile is not fit to project aims.
---
Visita Antecipada de Planeamento
---
Material Necessário: Participants will receive a separate document on detailed Information and travel arrangements after final selection!